Day 30 – January 20th 2016 – Route
Following breakfast we joined a free excursion offered by the Estancia our hotel was part of. Got a local history lesson (Santa Cruz region ),  coffee making demo (using a hot coal as a filter), sheep herding and shearing demo and tasted some local food and drink. I also tried the Argentinian drink of choice – matte.  We slowly  made our way over to meet our French  cyclist friends, Vincent and Mylene.   They had a surprise for us, the surprise was Laura and Reza  the doctor cyclists we had met a few weeks ago. We headed off in the sunshine for a relatively peaceful 50 kilometers ride in desert/pampas land to a camp spot by a glacial river. En route we actually passed another tandem, an American couple from Utah
Day 31 – January 21st 2016 – Route
We have survived a month! This morning James had a meltdown as our lovely camp spot was swarming with flies and he is sick of deadlines! So we have agreed to no more schedules, timetables or deadlines unless we have to get some form of motorised transport. Carried on pushing through the desert/pampas and clocked up over 100km with our early start. The scenery felt like cowboy territory and we came across Butch Cassidys hiding place which was an oasis for food, drinks and cakes! Thank goodness for cowboy bank robbers.  Hit a very strong headwind at km 70 and pedaled on till we found a little Estancia with shelter for camping.  They provided us some space, chickens to observe and some water on departure – lovely people! We relaxed in our camp chairs, cooked up some dinner and giggled listening to old Adam and Joe podcasts.
Day 32 – January 22nd 2016 – Route
No timeline so woke up when we felt like it and had a relaxing start after 11. Our French friends were long gone! Headwind for the full 60km but beautiful views heading towards the Andes and national park los glaciers. Perfect blue skies and we stopped for lunch and had a paddle at a glacial stream. Spent the whole day looking at Fitzroy, the mountain in the Patagonia brand logo. Made it to our well needed hotel for shower, rest, WiFi and clothes washing. Had a lovely dinner out with Vincent and Mylene (French) and Kai and Johanna (German). This is the bit if the trip where we will see a LOT of other cyclists so the novelty is starting to wear off.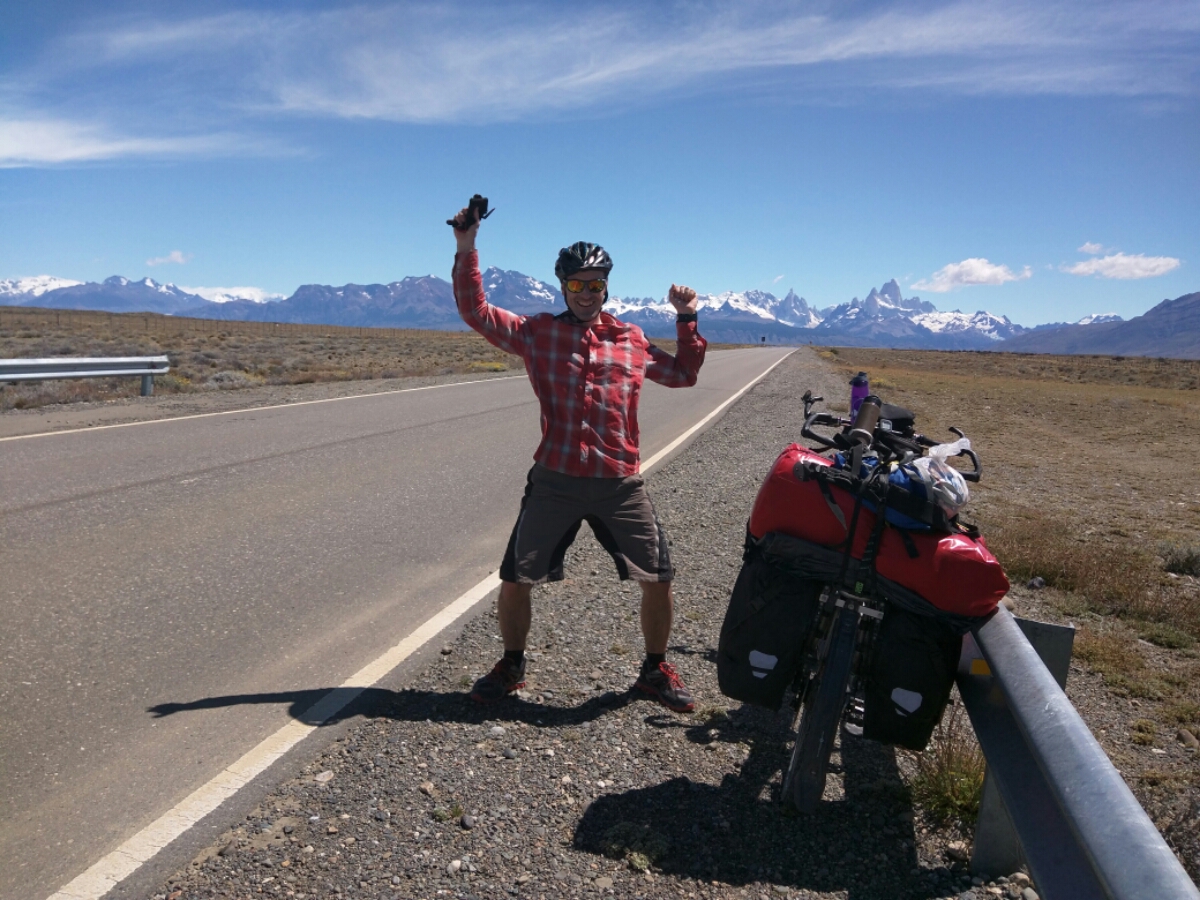 Day 33 – January 23rd 2016
Being in a hotel rocks and so does having a bike free day! We are hiding in our room to chill and escape the wind and rain.
Day 44 – January 24th 2016
Relaxed all day. I watched some films on the tablet whilst eating cake and chocolate. Clare went for a short hike. Supplies were also finalised for our border crossing into Chile.