Day 47 – February 6th 2016
Boring rest day in the Small town of Cochrane, Chile…everything closes for siesta from 12 to 3 :)day improved with the best empanadas we have had all trip. Clare is a little sad all her cycling buddies have cycled on ahead…
Day 48 – February 7th 2016 – Route
Feeling rested and fresh we pedaled off and made it about 1km before the ice cream stop. A hot sunny day with almost 1000m of hills and a distance of appropriately 60km. Magnificent surroundings though! We saw some kayakers float down the river beside their boat – which is not how you are supposed to do it. At the end of the ride we spotted a red bandana in a tree and followed it to find our friends camped in an idealic spot next to a fast flowing glacial river. James did some good hermit stuff (reading a book) and I socialised with the others and enjoyed a share of the delicious trout Vincent caught and cooked on the campfire. The French are so civilised when camping, they are even making their own bread and cakes on the campfire.
Day 48 – February 8th 2016 – Route
Rain and wet tent – the joys of camping! Left Puerto bertran to try and reach Puerto tranquilo where there are apparently lots of tourists so it is not very tranquilo! What a tough ride, dragging the tandem beast slowly up hills and James thinks we have another rear brake problem which means we are fighting the bike. Beautiful vistas all day of mountains and electric blue lakes but just super hot and tough riding. Highlight of the day was James getting so angry with the trip and bike that he booted a paniers across the road! Anger management. We really pushed to reach Puerto tranquilo and made it at 10pm. Asked 6 places for a room with no luck so had to camp in a hospedaje garden.
Day 49 – February 9th 2016 – Route
A quick empanada for breakfast and then we jumped on a small boat to the marble caves, 15th wonder of the world apparently! The caves were beautiful shapes and colors in contrast to the electric blue lake. We even got an adventurous splash filled boat ride back against the waves! Had a yummy lunch and bumped into Kai and Johanna who invited us to their secret lovely camp spot. Passed a fun evening cooking in the campfire and laughing. We also found a big dead bug – see picture below.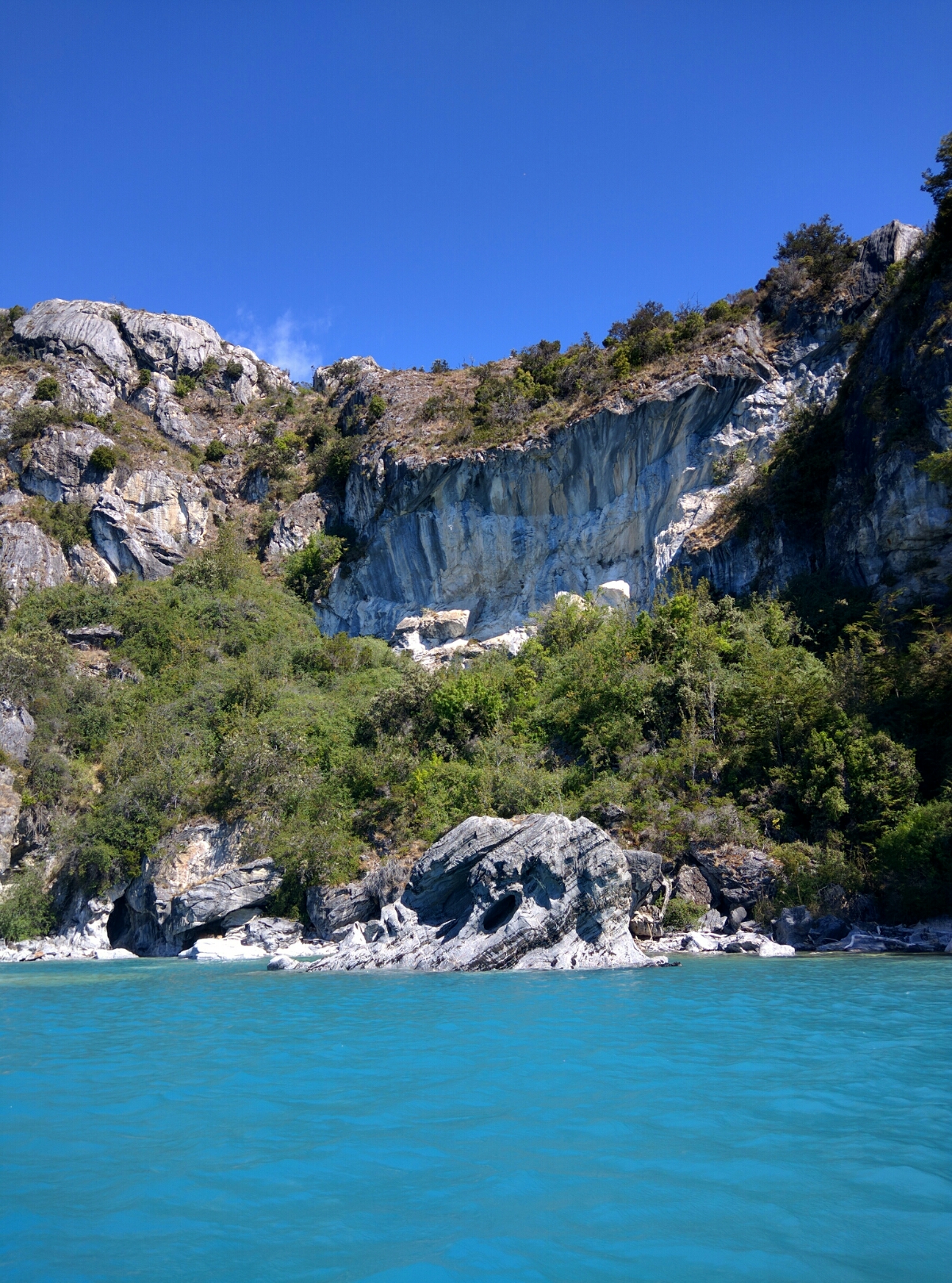 Day 50 – February 10th 2016 – Route
We both went for a lake swim before eating pancakes (made by Kai) for breakfast. It is beautiful and peaceful here. Relaxed for the day, Clare had her nails done (with the polish bought to repair chips in the bike paint work) and we popped back into town for more ice cream. Set off at 17:00 and rode for 20km to a spot by a river found by Kai (we had to go through a closed gate but we didn't get into trouble). Set up camp and sat round a camp fire and cooked. On retiring to bed we realised Clare had a huge bug crawling on her, there was also one on our panier. After getting in the tent safely we spent the night listening to the huge insects crawling about on the outside of the tent – euugghh. We are guessing they are dung Beatles, yuck!
Day 51 – February 11th 2016 – Route
Slow start playing about with bones. We made a new mascot for the bike but it proved a bit impractical. We then rode on to an abandoned house some dutch cyclists had told us about. Along the way we had to stop while a police car was towed out of a ditch. As it was starting to rain we decided to stay at the abandoned house. We took all the panniers off the bikes and lifted them over the fence. We then set up camp in the house as Kai told us all about the incurable hunter virus we might catch.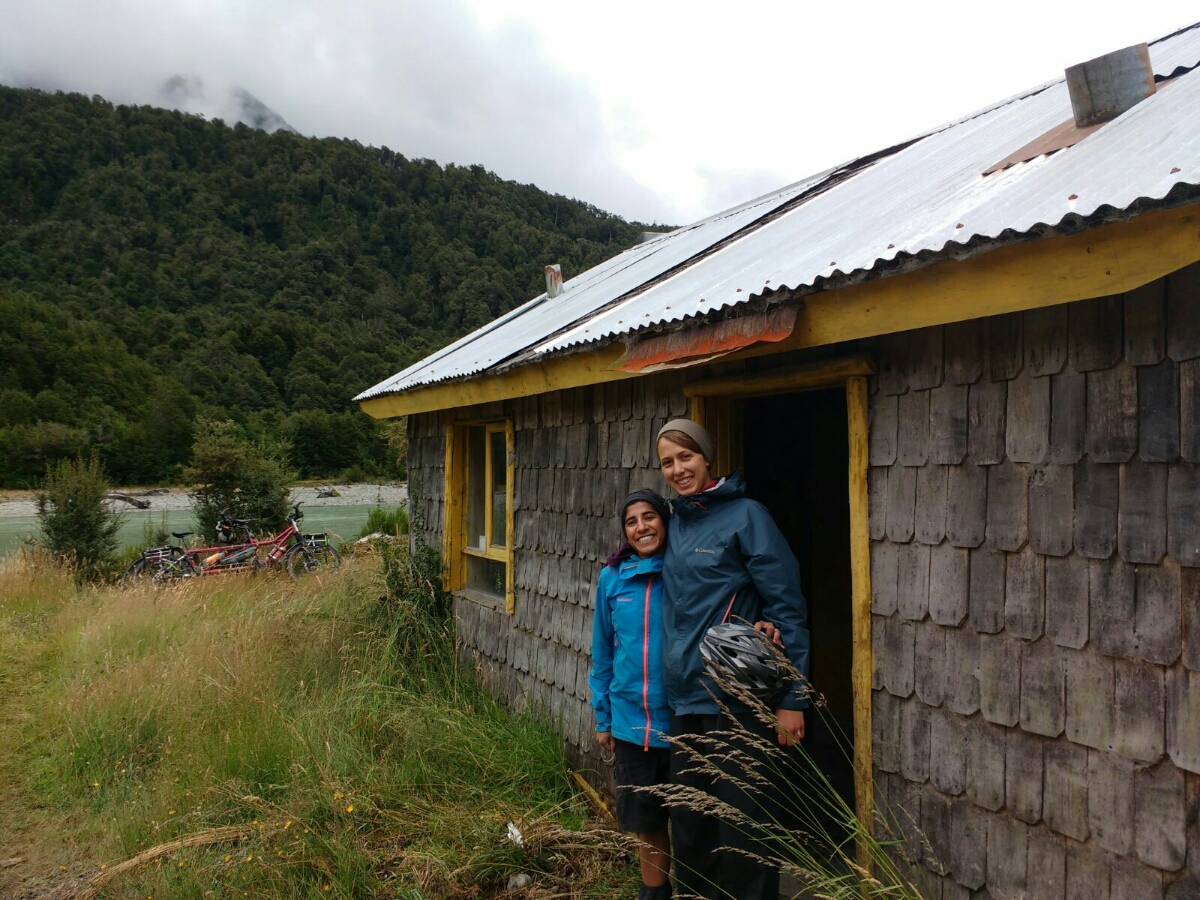 Day 52 – February 12th 2016 – Route
Spent the morning waiting for the rain to subside with no joy so finally ventured off at 2pm. Cycled 60+km with difficult road conditions and lots of hills but the river and forrest were beautiful despite constant rain. Highlight of the day was when James almost burnt down the wooden shelter due to an unexpected fire ball from the camping stove! Passed through 30km of road works which made James very happy as he marveled in the huge engineering project and loved the big trucks and machines. We arrived super tired and in the dark to yet another town with no accommodation and had to pitch up in the local campsite – we did manage a hot shower though.
Day 53 – February 13th 2015
Left our noisy crappy campsite with 2 toilets and 2 showers for about 80 people. We had a nice chat with some Israeli motorcyclists from Zurich. Crazy windy day in Serro Castillo so we hid in a local restaurant to eat before setting off. We met a lovely couple from Santiago who work for north face and were really knowledgeable about Patagonia. We had a great chat and they helped us find a cabana to stay in using their local connections. Spent the day and evening with our German and French cyclist friends – so a real treat! Johana cooked a delicious chilli con carne without the carne as there was none in the shops. I have had 3 days of a funny tummy and emergency banos so time for antibiotics 🙁
Day 54 – February 14th 2016
Valentines day but another regular day on tour! Slept well and the wind was howling less so we will probably start pedaling again today. Just had a late lunch and ice cream and will be back on the road again.