Day 86 – 17th March 2016
Woke up to a very heavy rain storm. Pushed the bike to the ferry and then did the 9 hour ferry ride from Chaiten to Puerto Montt.  Arrived in Puerto Montt and went to Hostal Suizo where our new bike parts were being sent. Our nights in shining armour – Anja & Tobi were in town so we all had a dinner together before they drove to Argentina.

Day 87 – 18th March 2016
The parcel was showing that it would be delivered tomorrow so we decided to stay another night. We got a tour of the hostals main house which contained all the owners artwork – very nice.  We popped out to wonder around town and investigate car hire as a backup plan. Back on WiFi the parcel was now showing as arriving on Monday so we decided to hire a car.
Day 88 – 19th March 2016
Hired car, went to airport, swapped car for a pickup truck and then drove to the Island of Chiloe, took a short boat to the island and then drove round some of coast. Finished the day camping by the sea next to some sand dunes.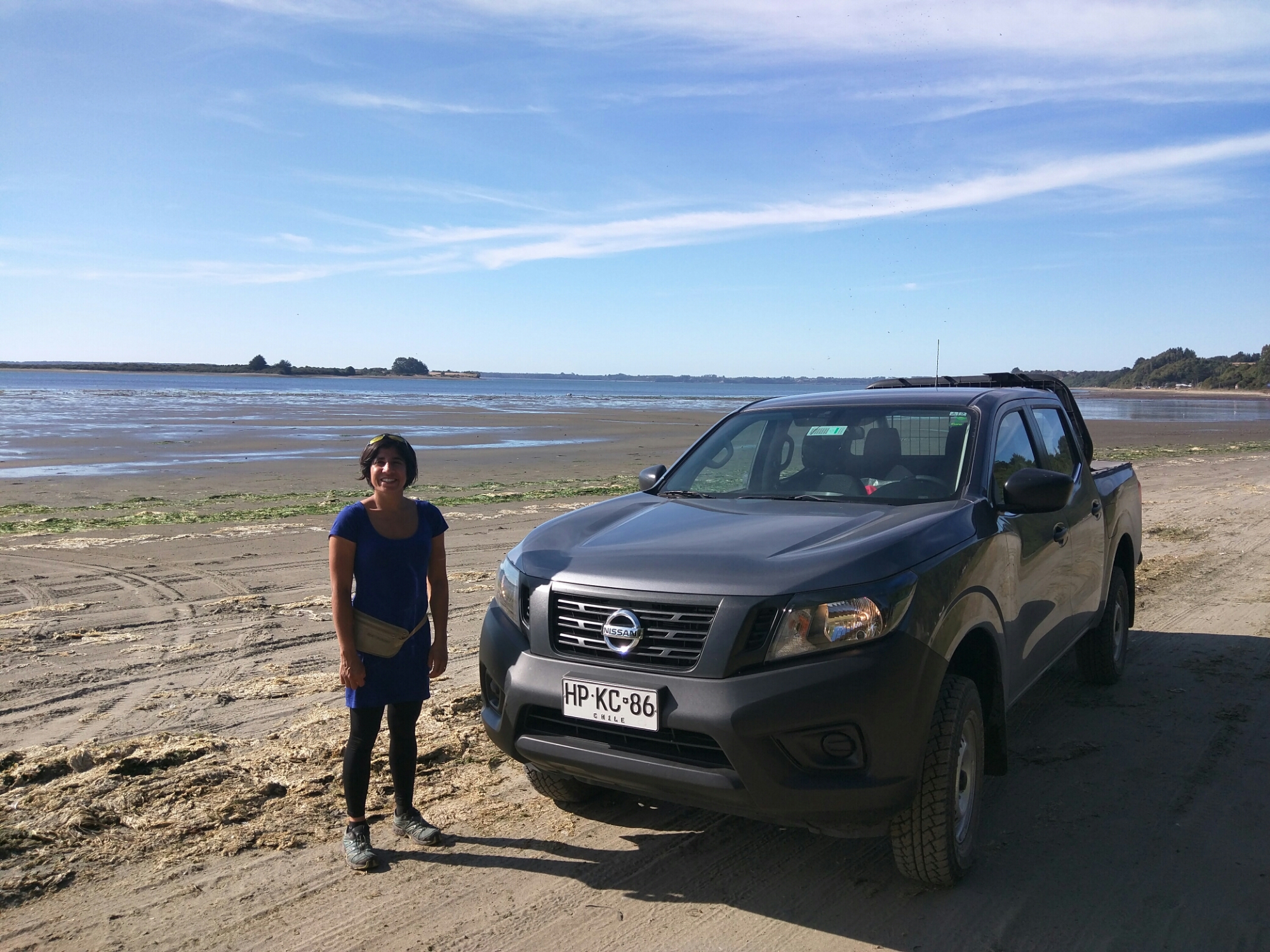 Day 89 – 20th March 2016
Woke up to misty sunrise. Chucked tent in car and did nice coastal drive via penguin islands to Chepu. Went for 2 hour hike along beach and river. Got a bit lost in dunes.  Drove to quellon and bought some local honey on the way.  Took a 4 hour boat to Chaiten and then drove in the dark to a campsite in Tompkins Pumalin Park- the last 8km was on a single lane gravel road through a forest – a rally night stage! Slept in the truck to avoid putting up the tent in the dark.

Day 90 – 21st March 2016
Walk to glaciar view point in the park. Then drove out of the park and went to a thermal baths. Met a Dutch couple, Bart & Jolien and offered them a lift back to Chaiten. On the way we picked up another two hikers who went in the open truck bed. The dutch were a bit stuck with no buses so we offered them a ride and a place to sleep – the truck! The four of us went to an empty volcanoe campsite and had a fun evening of pasta and wine. We even had a shelter big enough for our tent! Due to the rain and clouds we could not see the volcanoe.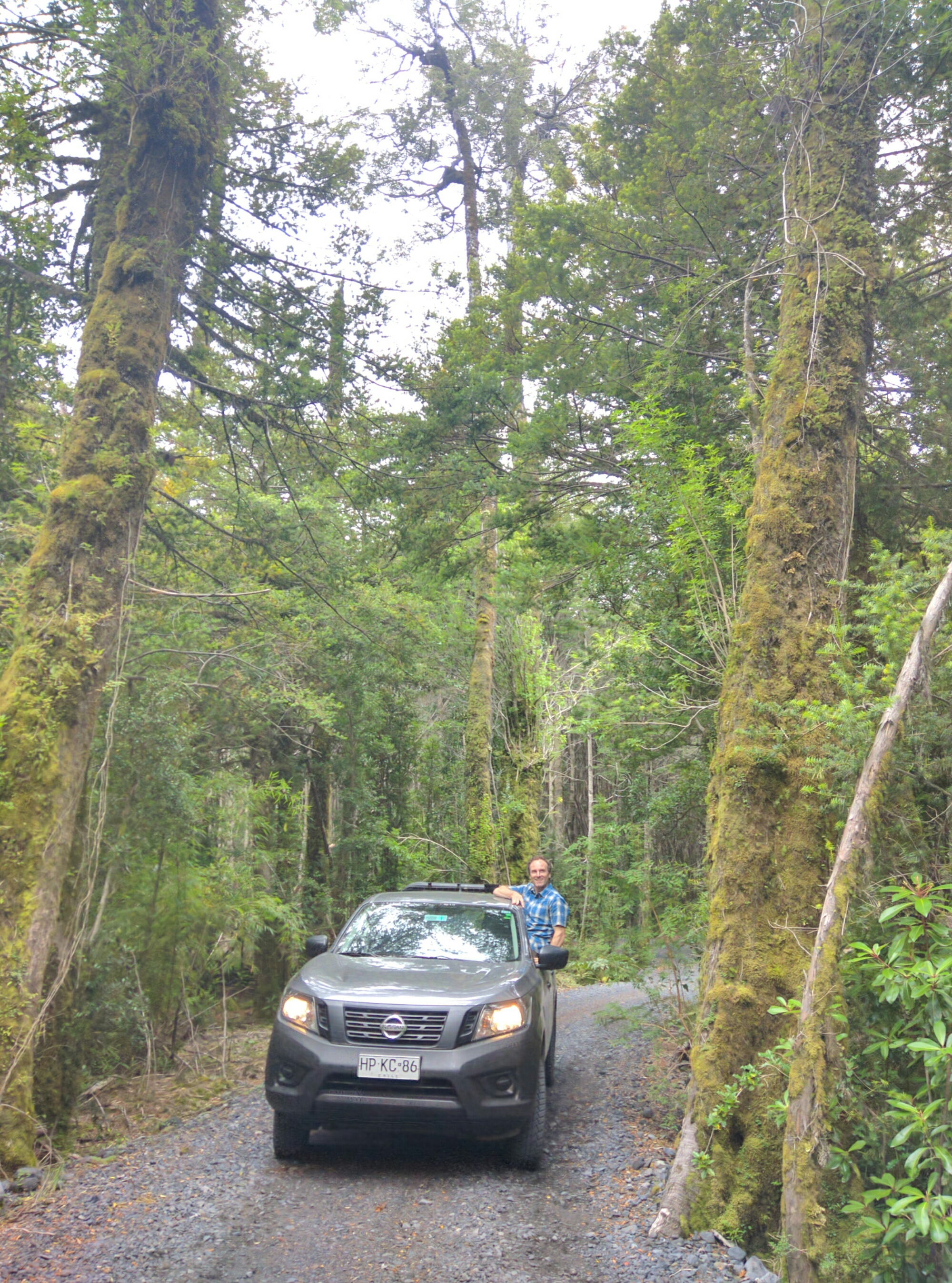 Day 91 – 22nd March 2016
Up early in the dark as we didn't have much time before our boat left.  We then did a speed visit of this area of the park and did three separate hikes – to lakes, to a waterfall and to 3000 year old trees (almost extinct due to logging). Much to Clares disappointment we still couldn't see the volcanoe. We then got two boats (with a short drive in-between).  We parted ways with the dutch as they managed to find another lift to their next destination. A kind man on the boat let me dry our tent in the engine room which was cool! Clare and I then continued along the fjord – seeing a lovely sunset and more dolphins. We drove on in the dark to a riverside wild camp spot – another night sleeping in the truck to save on putting up the tent.

Day 92 – 23rd March 2016
Up early – a quick breakfast in the rain and then we drove back to Puerto Montt via Puerto Varas (where we had coffee and cake for lunch). Dropped the hire truck back undamaged and then watched the rental guy drive it into a parked car – glad it wasn't me! We drove 860km in 4 days – a bit different from our bike mileage.  Back to the fantastic Hostal Suizo where our new brake stay was waiting for us – along with a $100 import fee 🙁  I fitted the new part and the new chain – upon test riding found all the gears were slipping – bugger. Retired for a dinner of guacamole and red wine and then more bike repair research.

Day 93 – 24th March 2016
Up earlyish to have another go at the bike. Spotted some worn teeth on the rear cog so decided to swap it out. Couldn't get it off so the hostal owner Rossy drove us to the bike shop where with some borrowed tools it came straight off. Back to the hostal and work continued (in between a lovely lunch with Rossy and her husband) – a new oil seal went in the hub to try and fix the old leak, an oil change for the hub, a good clean and lube of the suspension and then putting the rack back on. As it was now almost dark we decided another night in the hostal was a good idea.  We also tried a local treat of giant pine seeds – lovely.