Day 62 – February 22nd 2016 – route
Left the comfort of our cabana and got back on the tandem.The sun was shining and we had a 45km ride in stunning countryside. We had a dog escort most of the way until he got distracted by some sheep. Camped at a little farm and slept to the noises of puppies, dogs, horses and roosters.  James ripped his jacket on a barbed wire fence 🙁 The horse also decided to thunder up and down our camping field in the middle of the night which was a little disconcerting.
Day 63 – February 23rd 2016 – route
Perfect day on the bike. Half dirt then tarmac, stunning landscapes to ourselves, sunshine and wind with us. Found a perfectly located cafeteria for a late lunch. A part of the day was also spent listening to good music.  We spotted a note left by our French cyclist friends on a sign! Highlight for james was cycling over 2 suspension bridges which swayed a lot in the wind. We also met a lovely Swiss couple, Sabine and Andy, on a 2 year road trip from Canada in a small truck. Found a perfect wild campsite next to the river with great mountain views. We watched the Pixar movie inside out before a good night of snoozing.

Day 64 – February 24th 2016 – route
Another lovely day on the road as we moved into mountains and tropical vegetation.  We reached Villa amengual and stopped to stock up on supplies. We followed our tummies to a local restaurant which turned out to be an amazing gem with delicious home cooked Patagonian food, excellent cocktails and they also had rooms so no need to camp!!! The owners Victor and Tatiana are lovely knowledgeable locals.

Day 65 – February 25th 2016
Chucking it down with rain so made a spontaneous decision to stay another night as cycling in the rain sucks. More yummy food and cocktails and chats with the owners and watched lots of TV.

Day 66 – February 26th 2016 – route part 1 and part 2
Set off after a big breakfast. Stopped after 7km for a slice of lemon pie at a little roadside snack stop. We then climbed up a winding gravel road past waterfalls and rivers to the enchanted forest. Stopped there for a 3 hour hike – a really cool jungle and glaciar hike with lots of hummingbirds and a river crossing for good measure. Back on the bike – it was quite late and was raining heavily so it was a fun 4 hours in the dark till we finally found a campsite.  I kept thinking that something on the bike was making a strange noise but we finally figured out it was roadside frogs/toads croaking – not the bike. Lots of construction on the road so we're not able to wild camp.  The campsite was a dump but ho hum.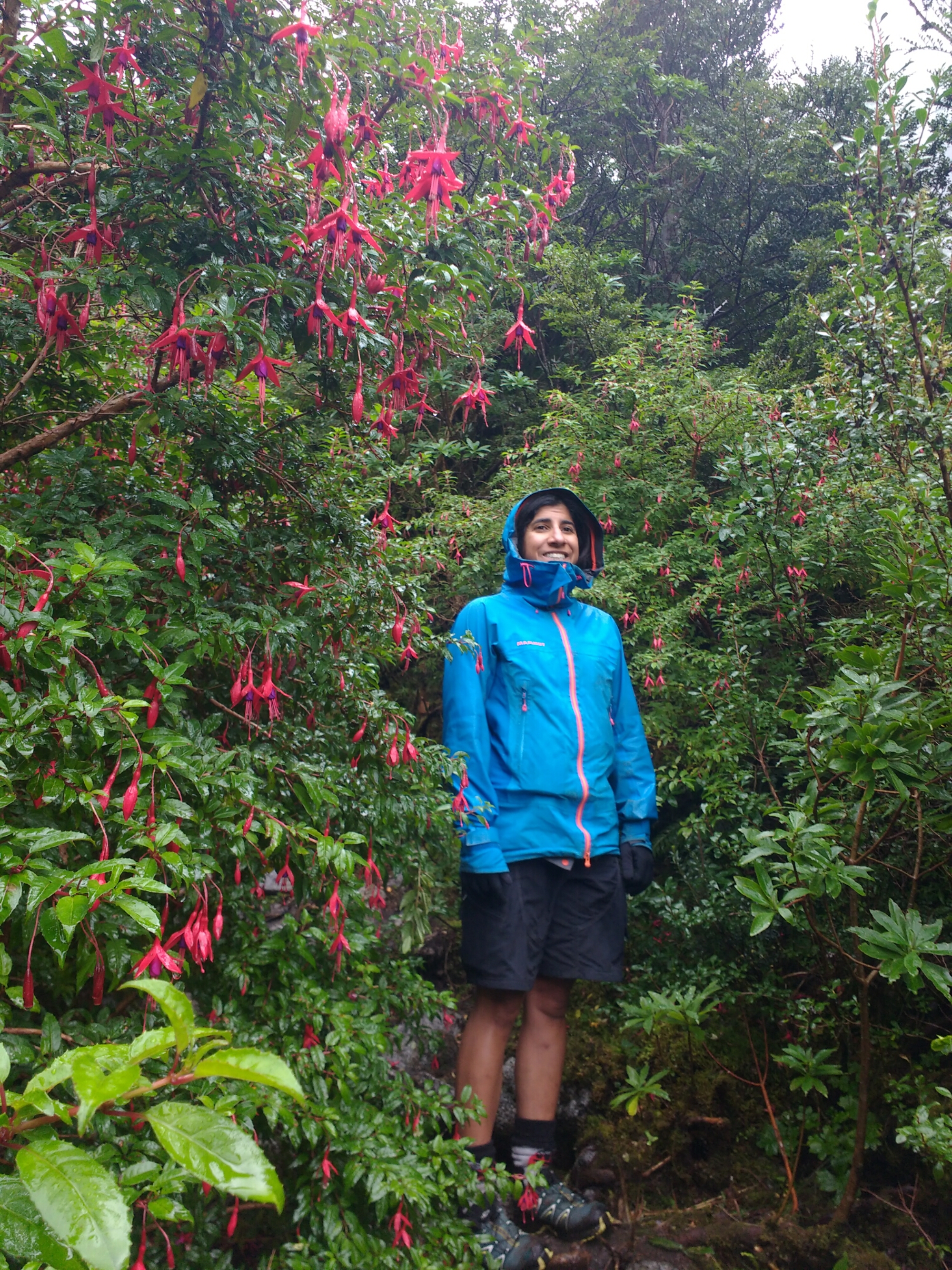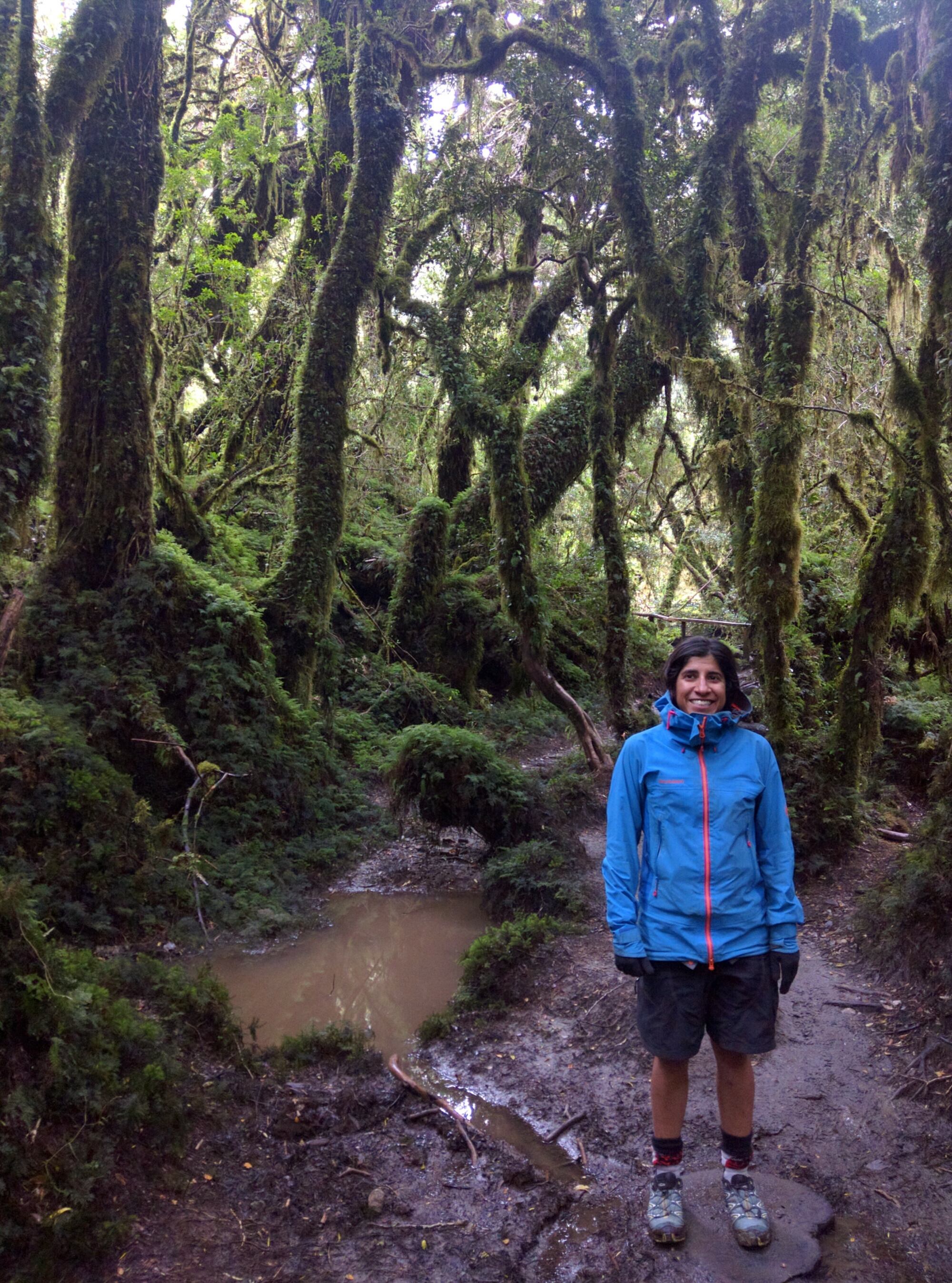 Day 67 – February 27th 2016 – route
Realised in the morning that we could have slept in a bus instead of our tent in a mud puddle – the perils of arriving in the dark.  After waiting for the rain to ease off we headed into the Quelat park to see a hanging glaciar. Took a guided kayak trip and got some amazing views with sunshine to boot.  We then got on the bike and rode as quick as we could to the town of Puyuhuapi.  All the best places were fully booked but Clare found us a nice little hostel with a room so we were able to dry the tent and sleep in a bed. All the restaurants in town that took credit card were closed so we made our own pasta dinner (we are running out of cash due to a lack of cash machines!)

Day 68 – February 28th 2016 – route
A good early start (for us). Sun was shining and we headed to the next town.  Saw a hummingbird sitting in the road so moved it to the verge. We were joined by another cyclist who said that the birds have to warm up before they can fly – he then tried to use his hands to warm it up without much success!  We then stopped off at a local festival and had some cake. We waited for some singing or dancing but nothing happened.  Back on the road again and tarmac all the way to La Junta. A lovely hotel had space so we are staying for two nights. Some pisco sours, wine, and food was a good finish to the day (of course we also washed our clothes in the sink because that's the way we roll)

Day 69 – February 29th 2016
Whiled away the day in the grounds of the hotel, caught up on this blog and did some pointless arguing 🙂 After the arguing I watched netflix all day and clare did a little hike and met a new (less annoying) friend to spend time with – a former Chilean anchorwoman!