Day 70 – March 1st 2016 – Route La Junta to hot springs
Slow start due to blog updates (actually got chatting with a German couple – henry and carolin – who were doing their blog update and also in a 6 month trip!) and finally started pedaling at 2pm for our 20km trip to the hot springs.  It was a lovely sunny day and the dirt road boasted wonderful scenery. We camped at the hot springs and spent the afternoon soaking, hanging out with Anita and just chilling. Less than perfect sleep due to loud campsite neighbours!

Day 71 – March 2nd 2016 – Route Hot springs to Puerto Raul Marin
Started our day with another dip in the hot springs – lovely! Then set off for a 60km ride on a tough but stunning dirt road to Puerto Raul Marin, oldest inhabited village in the region and one if the most isolated. We arrived and immediately bumped into Vincent and Mylene, our French cyclist friends.  We cleaned up, ate a yummy dinner and then went for a magical hour of kayaking on the river where we were joined by lots of dolphins. This place is tranquilo and gorgeous. The evening ended with a camp fire and red wine with our friends.

Day 72 – March 3rd 2016
Our quick breakfast was followed by an awesome boat trip to local islands to see dolphins up close, sealions, penguins, pelicans, cormorants and more. We read books and had a siesta in the afternoon. We rounded off the day with a wonderful seafood dinner and I had conga eel for the first time. Had some great chats with Jonathan (the owner) and learned about the town, history and the problems they have getting into Google maps!

Day 73 – March 4th 2016
We had a lovely lie in and then walked around the woods and the beach which was magical, and we had a dog escort the whole time. Then embarked on a boat trip in the fjords which turned into a 5 hour trip of dolphin watching, fishing and eating fresh fish and potatoes over a fire and exploring land owned by crazy but lovely Carlos. What a treat hanging out with Carlos, Diego, Gabriela and Dario (the baby!). James even tried fishing Patagonia style but he wasn't a natural and ended up with one very wet foot and no fish.  On the way back we checked out the crazy 4 floor house Carlos has built himself over the last 20 years!!  At dinner I ate the stem of the giant local rhubarb for dessert.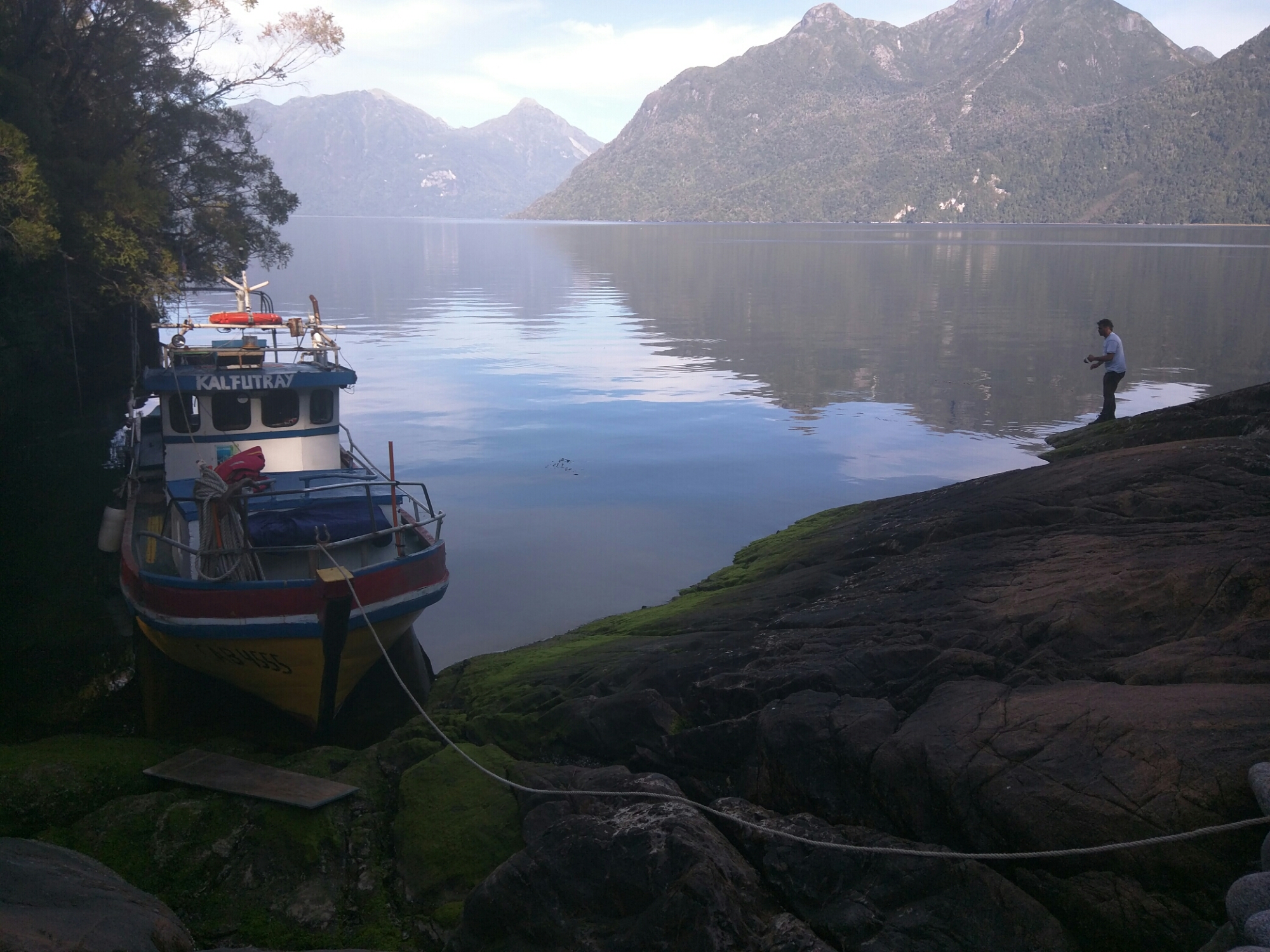 Day 74 – March 5th 2016 – Route Puerto Raul Marin to wild camping
Clare misunderstood the Spanish numbers and the boat trips were 80000 not 8000! Whoops! We visited the crazy house in the daylight and then packed up to leave. Spent hours trying to pay by credit card but their machine wasn't working. We had to leave without paying and promised to pay their friend in the next town. It was a hot day on the bike riding approx 50km to a wild camping spot near the river. The road was gravel but like riding on marbles so no fun for James. James made friends with the friendly local horse before we hit the hay.

Day 75 – March 6th 2016 – Route Wild camping to La Junta
Started the day with an argument then back on the annoying gravel road. It was only 30km to get back to La Junta, pay our debts and eat a big Chilean lunch.  We got sucked into bill paying and WiFi so James voted to stay another night at the luxury hotel. Clare was disappointed as she wanted to wild camp at the nearby lake…team tandem disagreement!l we made up and shared an evening of mojitos
Day 76  – March 7th 3016 – Route La Junta to wild camping
We had a lovely day of riding on a detour with a backdrop of mountains.  The highlights included James filling a shower cap with blackberries he picked.  We also went to a lake viewing point and met 2 enthusiastic Chilean boys and their grandma who welcomed us into their home. We decided to pass up the offer of a bed and pedaled on to a fab wild camp spot with all the perfect elements: flat ground, a fire pit, mountains and a gorgeous green glacial river. We sat by the fire and listened to our audio book.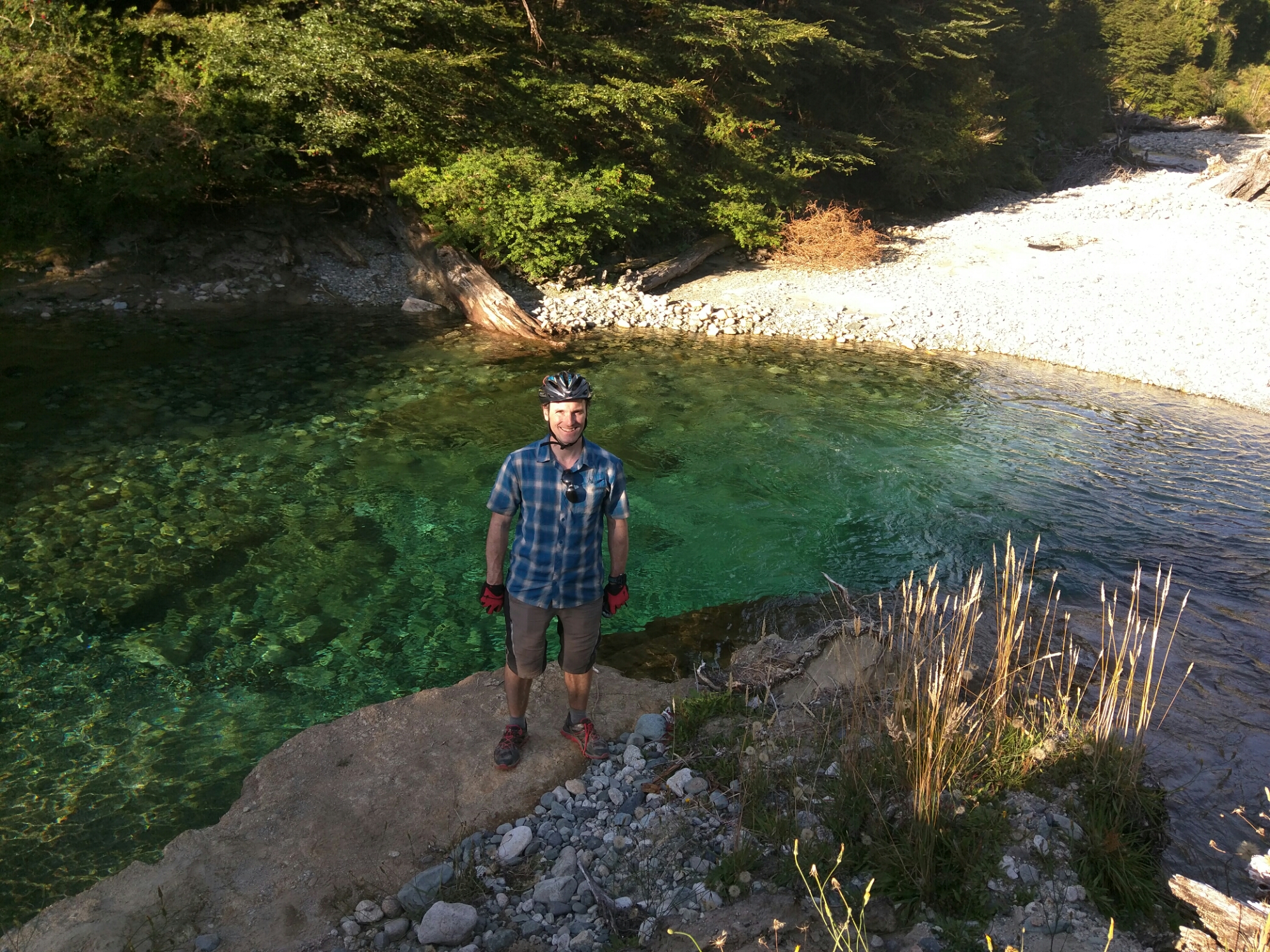 Day 77 – March 8th 2016 – Route Wild camping to wild camping
We had a lovely relaxed morning with a swim in the glacial river, another campfire and waiting for the tent to dry. Headed off in the early afternoon and rode a hilly 50km on both dirt roads and tarmac. We chatted to a few Belgian cyclists who had just completed a cycle tour from Belgium to Senegal and were just kicking off their south america section. We found a nice camp spot by the river and had a big campfire to ward off the mosquitoes which have started getting bad.

Day 78 – March 9th 2016 – Route Wild camping to campsite
We made it to the little town of Santa Lucia where we treated ourselves to a big lunch and an ice cream. Bad luck struck 10km into the road to futulafeu where we got a puncture. James got through the frustration and some tough riding by listening to rage against the machine. We crossed a lovely English cyclist en route and he directed us to a nice campsite. This valley is stunning.


Day 79 – March 10th 2016 – Route campsite to Futalafeu
I (Clare) had a bit of a freak out at the campsite so we were on the road super early for us, 9:30. We stopped on the amazing Futalafeu river for breakfast and to admire the awesome rapids.  The 40km to Futalafeu was super hilly and it was a baking hot day. We arrived, met up with friends and ate delicious pizza.

Day 80 – March 11th 2016
This was a fab day spent white water rafting on the famous Futalafeu river.  We successfully negotiated a number of class 5 rapids, including one called Terminator. We followed this with a night of booze and pizza with friends. Our rafting friends are a lovely German couple, Anja and Tobi, who are traveling in a very cool VW bus.

Day 81 – March 12th 3016
We had a lovely rest day of reading, siesta, tea and cake and a fancy dinner out with Laura and Reza.
Day 82 – March 13th 2016 – Route Futalafeu to wild camping
We really didn't want to ride that road again but our attempts at organising a lift were not successful. We cycled 40km to a wonderful wild camp spot and realized the road was much easier in this direction. After dark (they were fixing the van all afternoon) Anja and Tobi arrived with their van and we piled in for a night of pisco, wine and chat.

Day 83 – March 14th 2016 – Route part 1 & part 2 Wild camping to Chaiten
We left the beautiful camp spot on the Futalafeu river and only made it 10km before disaster struck! The rear of the bike frame snapped under the luggage weight and due to the poor quality roads. We waited on the side of the road for Anja and Tobi to help us. James and Tobi managed to build a temporary repair involving a lot of gaffa tape. Then James cycled a very hilly and dusty 110km solo in the tandem while me and the bags went in the bus with Anja and Tobi. It was a crazy day which even involved an attempt to rope tow James behind the bus up a very steep long hill.   After dark we found a cabana and had a late dinner followed by drinking and chatting till 3am! We are very grateful to our lovely German friends for all their help.

Day 84 – March 15th 2016 – Chaiten
We spent the morning sorting out getting replacement parts fedexed to Chile – fun! We then greeted Vincent and Mylene in the cabana. They made pizza and bread and we laughed the evening away.

Day 85 – March 16th 2016 – Chaiten
Whiled away the day with James being very lazy and Clare being forced into lazyness – not something she likes! Saw some of the old houses that are under 1 metre of ash still from a large eruption a few years back. Packed up and got ready for our boat ride to Puerto Montt where our replacement frame section is being posted.