Just a quick note – click the route link in each days title to see a map of where we rode
Day 113 – April 13th 2016 – Route Caracautin to Victoria
We got off the coach at 06:30 after our 9 hour journey from Santiago and sat in the town square waiting for the hostal to open. Once in we repacked all our bags and put the new wheel on the bike. All seemed good so we pedaled off into the cloudy day. It soon got very rainy and windy but it was nice to be back on the bike. We got to the town of Victoria and saw our first working train of the trip. The tourist information directed us to a hostal where we sat by the fire and dried. A nice dinner of Sushi topped off the day.

Day 114 – April 14th 2016 – Route Victoria to Purén
We set off in the rain again. Lots of trucks to start with but the traffic got less as we continued. The sun came out and it turned into a nice day. A puncture on the rear wheel (due to a manufacturing flaw in the new tube) meant a rest in a bus stop while we fixed it.  As it was getting dark soon Clare got worried and we stopped in the next town and found a place to stay and eat.  I explored the town after dinner looking to buy some chocolate but all the shops were shut – disaster.

Day 115 – April 15th 2016 – Route Purén to Canete
Massive thunderstorms and flooding in parts of Chile so we stayed in bed and watched TV. The rain finally stopped so we headed off on the bike at 12:30 straight into a big climb. Stopped for a late lunch of a pizza in a town celebrating its 132 year German Colonisation anniversary. Pedaled on past some lovely lakes but the road was very busy with logging trucks. Finished in a funny hosteria where the owner Mary integrated us straight into her household. We also stored the bike in the room with us. We were shattered so an early night once more.

Day 116 – April 16th 2016 – Route Canete to Coronel
Rode on a toll rode the whole day and didn't have to pay the toll. We saw the Pacific again at the end of the ride. Not a very inspiring days riding. Found the one hosteria in town and stayed in a small windowless room 🙁 The hostel shower was hot though! Popped and and bought our breakfast for the next day

Day 117 – April 17th 2016 – Route Coronel to Concepción
We got up and went and had our breakfast of cheese sandwiches and bananas in the local park. We planned for a big day so set off early. The riding was on busy roads again but as we got to the big town there were some cycle lanes. At Concepción we stopped at a cafe. After some coffee and pie de limon I checked the bike as we had a funny squeak. I then spotted that part of the rear swing arm was cracked. We found a hostel and researched aluminium welders and bike shops. As it was Sunday we joined the rest of the Chilean's and went to the mall where Clare got her nails done.

Day 118 – April 18th 2016 – route
Up early and went to the welders (who seemed to be engine block specialists). They said no problem to fixing the part so we stripped the part off the bike and it was welded nice and quickly – if you need aluminum welding I recommend www.casadelaculata.cl. After reassembling the bike we did a test ride and then went back to the hostal. We spent the rest of the day hanging out in the local university campus.

Day 119 – April 19th 2016 – Route Concepción to Quirihue
Long day with 100km of riding and lots of climbing. Roads were fairly quiet. Nothing else interesting happened – we both listened to our audio books / podcasts. Stayed in a hotel and had dinner there. Hotel bar was shaped like a boat and there was a big wooden head in the bar.

Day 120 – April 20th 2016 – Route Quirihue to Cobquecura
Slow morning with a bit of arguing. Getting a bit fed up of the Chilean bread breakfast as well. We decided to head along the coastal route to avoid the busy roads, see the ocean and try to rediscover the love of cycling . Set off in a slight drizzel which turned into a torrential downpour. Stopped early in a town next to the ocean. The town had been destroyed in a 2010 earthquake so it was a strange mix of new buildings and old ones with no roofs. Clare had her dinner with salad – as I know salad is bad for you I had potatoes.

Day 121 – April 21st 2016 – Route Cobquecura to Pelluhue
Clare woke up feeling sick and then was. She also passed out for a brief moment. Salad is a dangerous thing!!! Because she is a wonder woman she had a short nap and then smashed out 53km with 800m of climbing. We saw a sealion colony right next to the Cobquecura beach – it was great until we got downwind of it and then we both almost vomited from the smell. The rest of the day was sunny with lots of nice ocean views and a deserted new tarmac road. We did get a puncture but es ist normal. Had our best seafood meal in Chile.

Day 122 – April 22nd 2016 – Route Pelluhue to Les Pellines
A grey day. We were a bit tired as mosquitoes had been hounding us in the night. I stayed awake reading and laser targeting with my head torch each time one buzzed near – I squashed most of them but they kept up multiple single kamikaze attacks. Day started off bright but grey clouds gathered. We stopped in a cake shop and then a thunder storm hit. The shop had cabanas as well so we stayed to avoid the rain. Clare did some washing whilst I got the fire sorted – I burnt my socks on the wood stove again!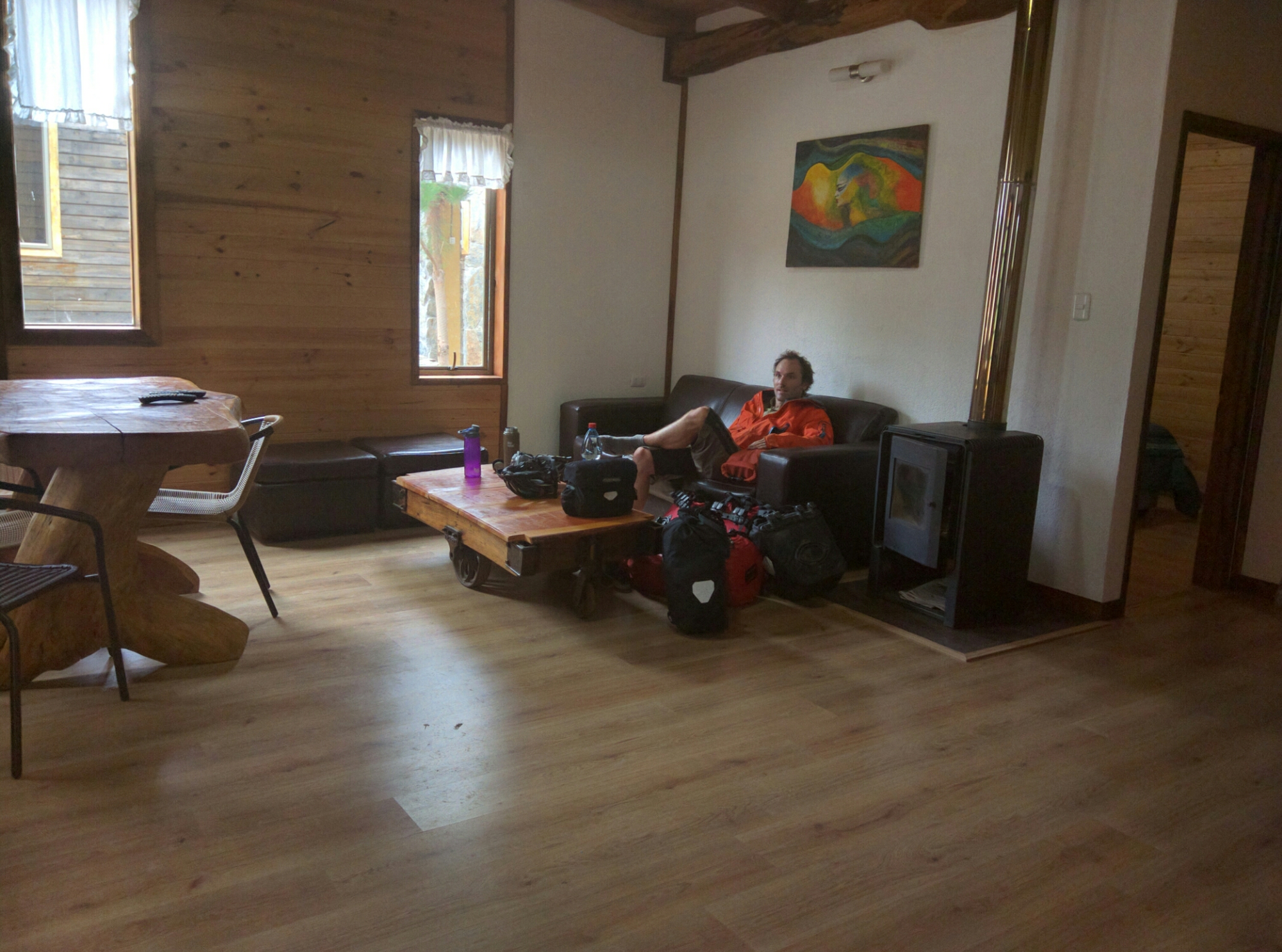 Day 123 – April 23rd 2016 – Route Los Pellines to Constitucion
Woke to more heavy rain (and mozzie bites) so did not venture outside. Had a lunch in the café consisting of Pastel de Choclo which is like a Sheppard's pie with sweet corn mash instead of mashed potato – very filling! Set off after lunch past lots of deserted black sand beaches. Stopped in the town of Constitucion and checked in to a nice hotel. All reviews gave the town a bad rep due to the smell of the cellulose plant but we smelt nothing. Had a hot chocolate with marshmallows to finish off the day.

Day 124 – April 24th 2016 – Rest day
We moved to a different hotel as the WiFi wasn't working very well in the first one – first world problems and all that 😉 Relaxed for the rest of the day in the town square, cafes and the Riverside. Some Jimmy Carr on Netflix finished off the day

Day 125 – April 25th 2016 – Route Constitucion to Iloca
A nice breakfast – we even got eggs and some cake which was a nice change. It was the perfect cycling day – tailwind, smooth tarmac, sunny but cool and lovely views. Couldn't have been better. We saw some other cycle tourists as well, Kathyna and Camilo, our first in 3 weeks. We finished the day at a hosteria in a room with a sea view. Listening to the waves as I write this. Till next time…