Day 13 – January 3rd 2016 – route part 1 and part 2
Departed sleepy Porvenir and headed to the boat. We sailed across the Magellan straight to Punta Arenas. Met an interesting 63 year old German motorcyclist called Gerd who is traveling the world for 5 years and had a nice outlook on life. The ship took about 2 hours and James even spotted some dolphins on route. Headed to a boutique hostel for some rest after our 12km of cycling that day. A relatively uneventful evening with dinner in a local restaurant (bumped into Gerd again) eating hamburger completas.
Day 14 – January 4th 2016 – Route
Pootled around town on the bike to get some bike parts, buy a SIM card and stock up on supplies. Felt nice and light on the bike without the bags! Then started the windy adventure on the road from Punta Arenas to Puerto Natales. A tough afternoon of biking and we ended up finding a lake and looking for a place to camp. We bumped into a German couple, Kai and Johanna a sculpter and potter, on the first day of their trip. Put the tent up in the wind and had a quick dinner and chat and then off to try sleep in the violently shaking tent.
Day 15 – January 5th 2016 – Route
We were going to get up early to try and beat the wind but it blew like crazy from midnight until midday so we just hid in the tent. Finally decided to brave the bike and made it a solid eight kilometers in 1.5 hours down the road before giving up and hanging out in a perfectly located service station. At the service station we found a guard sheep, the German couple and two other stranded cyclist, Laura and Reza, hiding from the winds. We had a lazy afternoon drinking hot chocolate and eating tostados (ham and cheese toasted sandwiches) and then welcomed 2.5 other cyclists, Renee, Lorraine & baby Casper who were heading South. James and I decided to do some night riding to beat the wind so headed off at 7:30 p.m. and cycled through till 2 a.m. before stopping and camping at the roadside. In the morning a cowboy came past with his head of cattle, hilarious!
Day 16 – January 6th 2016 – Route
Today we discovered bus shelters as a great way to take refuge from the wind. We rode into battle and not long after bumped into two French cyclist who have been cycling for 2 years, Reno and Darren. They gave us some tips on the road ahead and where we might sleep. We continued in search of a cafeteria as James was dreaming of tostados. Unfortunately there was none in this part of Patagonia and we have to make do with finding a bus shelter and cooking up our own delicious treat. We turned this into a fun experience by pumping out some good tunes. This gave us the energy to continue on and find a bus shelter to spend a night in, a real cycle tourist experience. Had a surprisingly good night sleep.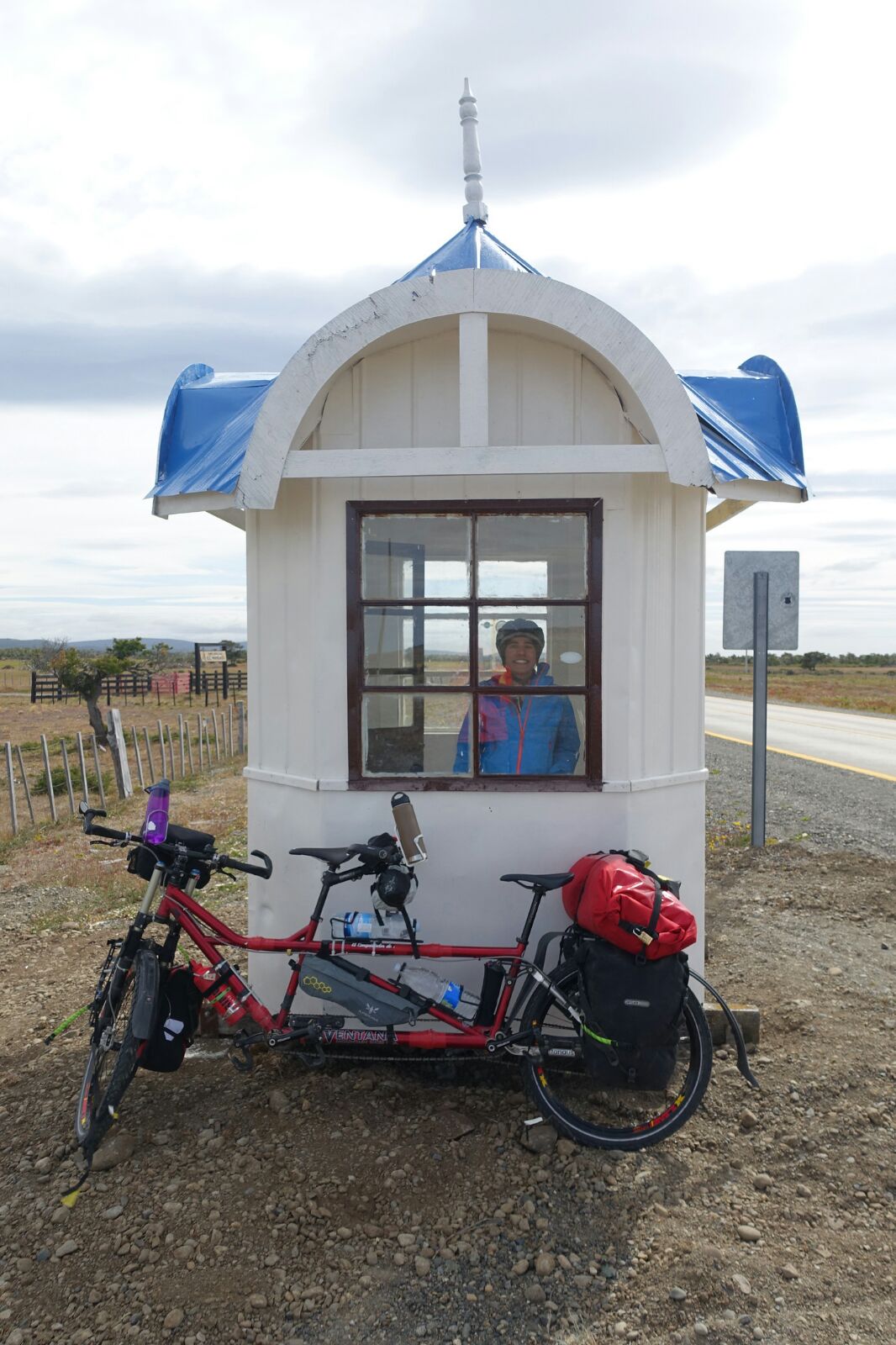 Day 17 – January 7th 2016 – Route part 1 and part 2
Feeling pretty fresh and jolly we headed off to what we hoped was a cafeteria not too far away. It was like some sort of magical Oasis, a little hotel and cafeteria in the middle of nowhere where we relaxed for a few hours. James wanted to stay but we argued and carried on instead. Why is there no shelter from the wind in Patagonia? Because they cut/burnt down all the trees and it pokes out into the sea! The next 35 kilometers of cycling was pretty tough and no fun as we were forced off the road every few meters. Finally made it to luxury as we found hotel Diana which is a country estate with perfectly manicured grounds, lakes and luxurious surroundings. What a treat! We dined on empanadas and I had a few glasses of wine before sinking into our bed for a good nights sleep.
Day 18 – January 8th 2016
Sat around doing nothing all day and relaxed. Clare did some swimming and went to the Sauna and I read my book. We then did a little bit of rowing! Rowing route. Finally a day not living like hobos 🙂