Day 19 – January 9th 2016 – Route
Day started out so well but went downhill rapidly. We are getting pretty tired and bored of cycling in the wind, not sure how much longer we can handle this. Had a lovely relaxing morning with a leisurely breakfast and swim in the pool. Used the WiFi and and the help of friends to sort out a minor banking crisis. Then decided to do the last push to Puerto Natales. We fought against the wind for 6 hours solid and only made it late in the day. The only highlights of the ride were a couple of breaks and stuffing our faces with toffees. Having arrived in Puerto Natales we have found out the Germans and the doctors had also made it safely which was great news. Had a fabulous pizza for dinner and bought our supplies for some time in the wilderness.


Day 20 – January 10th 2016 – Route
Spent most of the morning and afternoon working on the bike. Got a puncture after all work was finished which was nice.  Left late and headed towards Torres del Paine. Stopped at a 5* hotel and they told us we couldn't come in for a coffee – the shits! Found a perfect hidden roadside campsite which had an odd smell. We found a bin bag full of rubbish and maggots so moved to a different perfect roadside campsite

Day 21 – January 11th 2016 – Route
Had a good ride. Went past a sloth cave. Up and down road but pretty. A hard ride but we made good progress. Met a Japanese Guy and an Irish man called Sean who has been touring on and off for 26 years. Stopped at a nice campsite before park entrance – lovely shower and met a nice French couple Mimi and Vincent travelling on fat bikes

Day 22 – January 12th 2016 – Route part 1 and part 2
Cycled to lago grey – crazy wind for a short section. Did a little hike and saw some glacier icebergs. Stopped for late lunch in fancy hotel. Had the winds at our backs for 20km so shot along. Bumped into Mimi and Vincent again so rode with them to the next campsite. Tough last section due to hills. Another great campsite with nice showers. Clare celebrated life with a shared bottle of wine. Chatted with our new friends and had a fire.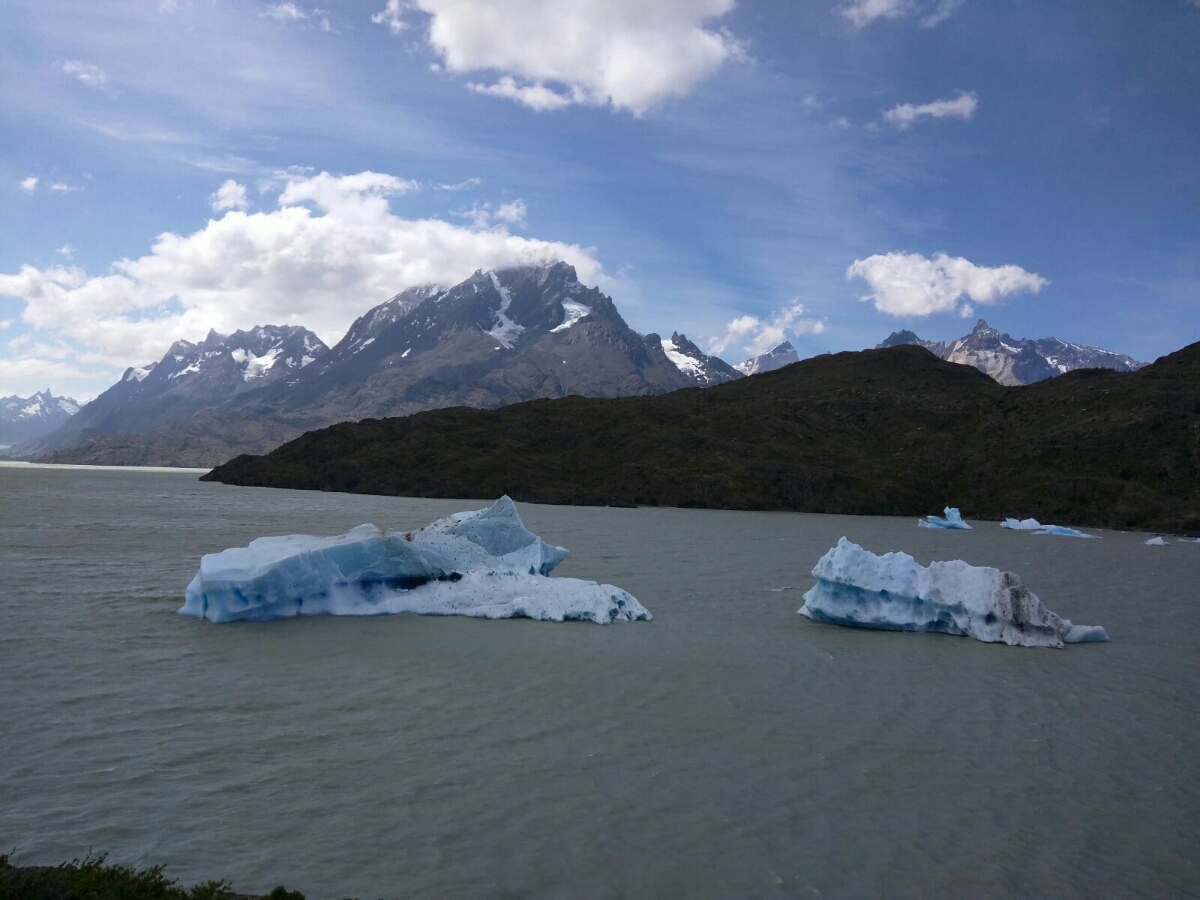 Day 23 – January 13th 2016 – Route
Woke up and did a little hike. Saw a Guanaco right next to our tents. The days riding was tough (1000m of climbing) but probably the most beautiful day so far with the mountains always on front of us and we even got a tail wind. Rode again with our new chums. Arrived at the final park campsite which was full of hikers. I managed to mess up making pasta so we had a horrible dinner of over cooked pasta, tuna and tomatoe sauce.  I then did some bike maintenance with Vincent's help and Clare hiked to get a bottle of wine.

Day 24 – January 14th 2016 – Route
A day with no cycling. I did a trail run/hike up to see the Torres del Paines. Took 3.5hrs total – 20km and about 800m of climb.  Clare, Vincent and Mimi hiked up at a more normal pace and were back in 7 hours. A beautiful day with sun and blue sky.  Went for dinner in the fancy hotel and got the usual shonky service – food was nice though.

Day 25 – January 15th 2016 – Route
After a good nights sleep we were up nice and early. After the usual 2.5 hour prep time we hit the road. Another lovely day with almost no wind and clear blue skies. We were allowed on a closed road for a section of the ride so had a nice newly paved road all to ourselves. We saw lots of animals today; Guanacos, Rheas, Flamingos, sheep, cows and horses.  At  a bus stopped where we had stopped for a break we were invited to eat with an Argentinian family on holiday – they fed us and sang us some Argentinian songs! Crossed the border into Argentina in the late afternoon. Clare asked at an Estancia if we could camp on their land and we were invited in, fed a three course meal (one of the tastiest of the trip) and given a room for the four of us to sleep. Met some of the Gauchos (and gave them a go on the tandem) and did some Spanish speaking. A great day and one filled with the kindness of strangers!